It's been over 14 years since Netflix launched and No Netflix desktop official app can be found for mac.
Yet it's available on basically every device from phones to video game consoles.
Don't hold your breath just yet, at this rate it could take a couple of more years until we get a release for macOS.
While we don't have an official app right now, here's the next best option to have Netflix on your mac's desktop.
You can have a Picture in Picture window always showing on your desktop playing a show or movie on Netflix as you do other things on your MacBook.
This is something you can't do with a regular browser like Safari or chrome while using Netflix.
You get to be productive and also browse other websites out while watching your favourite show or movie in the corner of your Mac!
To do this you need to get ZuriWeb: Menubar Web Browser from the Mac app store.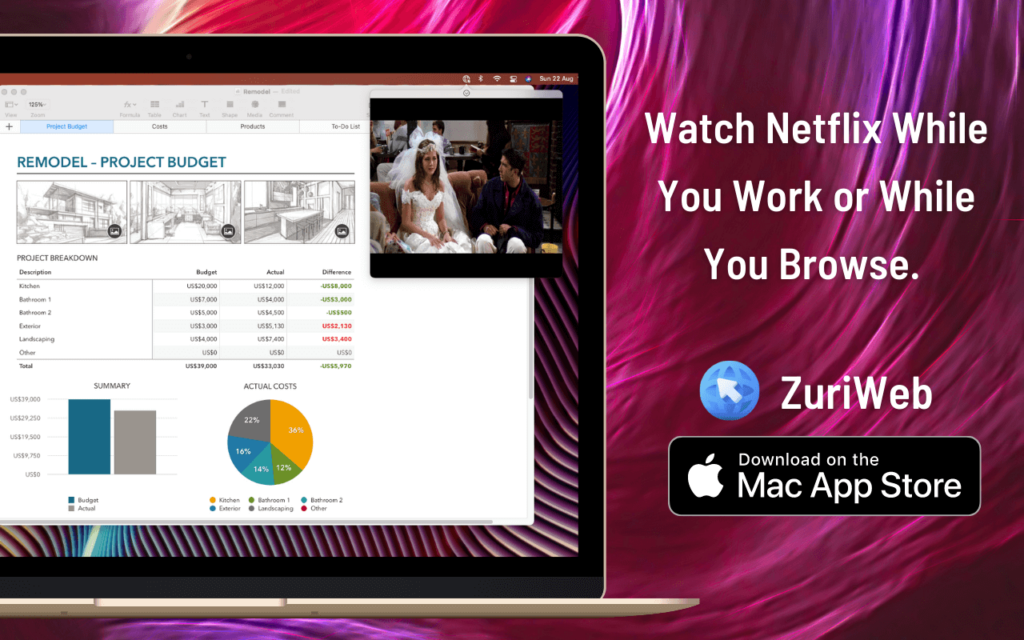 Once you've installed the app, you should see a globe icon on your menu bar. Click on it.

There's already pre-set shortcuts in the navigation bar that includes Netflix for your convinience.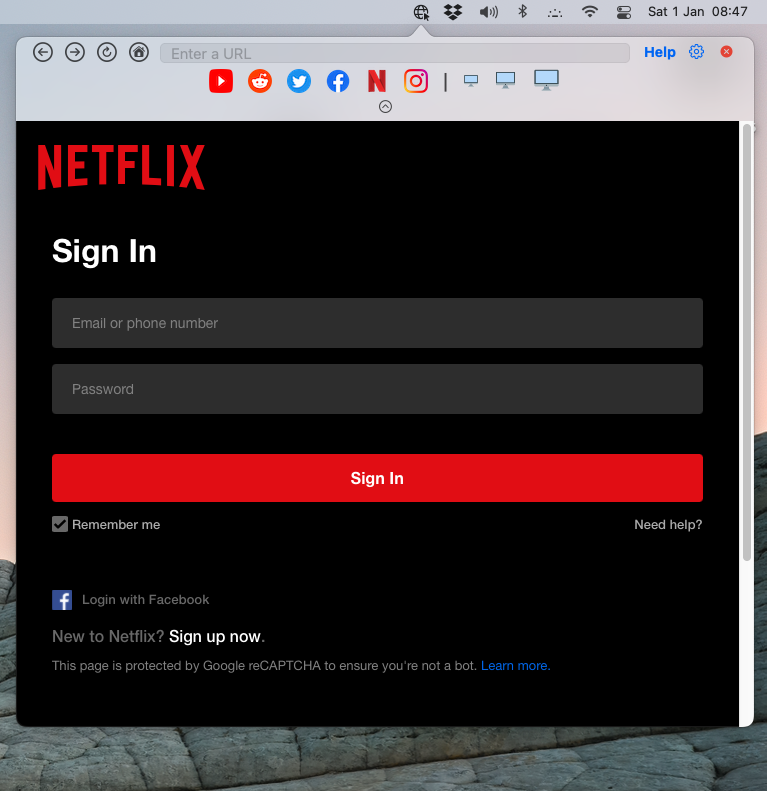 Enter Your email address and password, log in to your Netflix account and you're good to go!
You can set different screen sizes to suit your viewing needs.
There're 3 screen icons on the navigation bar on the far right.

Each of them will set a different window size.
**UPDATE** You can now set your own size in the latest version of ZuriWeb (2.0+).
Click anywhere on the navbar and drag your mouse to resize the window to the size you want.
On the navigation bar there's an arrow if you click hides the navigation bar completely.
So that you can get a better viewing experience while watching videos.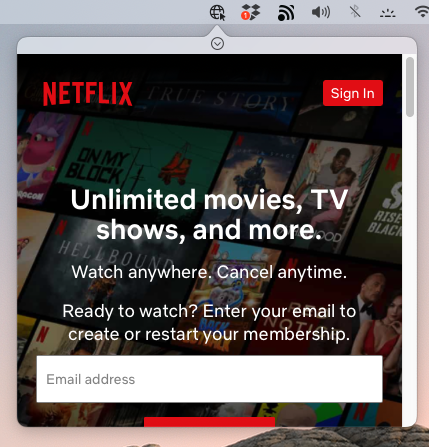 You can also set your own keyboard shortcut to hide and show the browser instantly.
This is useful if you're browsing a website on another browser or working on a document and you want a clear view.
And you don't have to always move your mouse over to the menu bar icon every time.
If you hide the browser you'll still be able to hear the audio playing from the movie or tv show you're watching.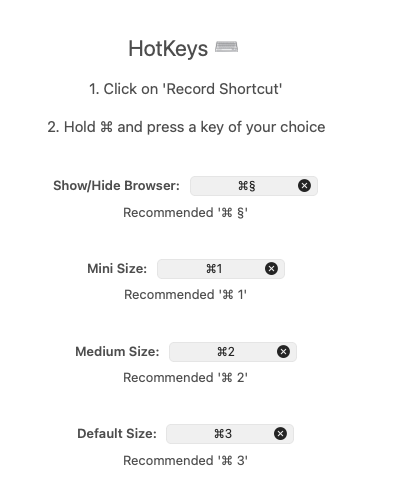 Zuriweb is a great alternative to have Netflix on your desktop as you wait for an official desktop Mac app.
You can do so much more than just watching Netflix with Zuriweb.
Here's some other cool tricks that it can do and turn you into a productivity powerhouse.
Other Cool Things that you can do
ZuriWeb can turn any other streaming video service into a Picture in Picture app.
From Hulu, Prime video and many other sites that you don't have a built in Picture in Picture feature.
Other users have told me that they've used it for WhatsApp on their Mac as the official app uses a lot of memory and freezes their computer.
It can be a replacement for official apps that don't work well on your Mac or aren't available yet on the App Store.
Can't find a reddit app that doesn't give you the same experience as the desktop version?
No problem, just make ZuriWeb your dedicated reddit browser as you do other things on your Mac.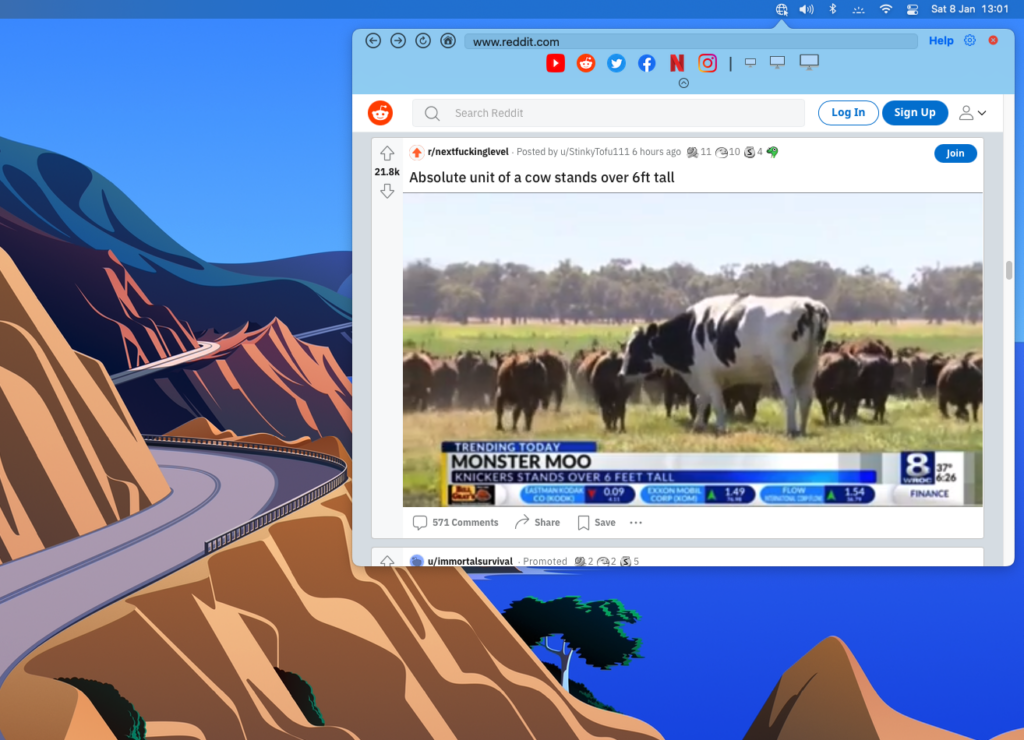 You can use ZuriWeb as a multitasking research tool.
It can be time consuming when you're trying to do some research for a project,
and you always have to switch back and forth between your browser and an app such as Microsoft Word.
ZuriWeb works perfectly as a research tool that will save you time and help you make faster progress.
You can just search for the information you want in Google from the corner of your menubar while working on a document.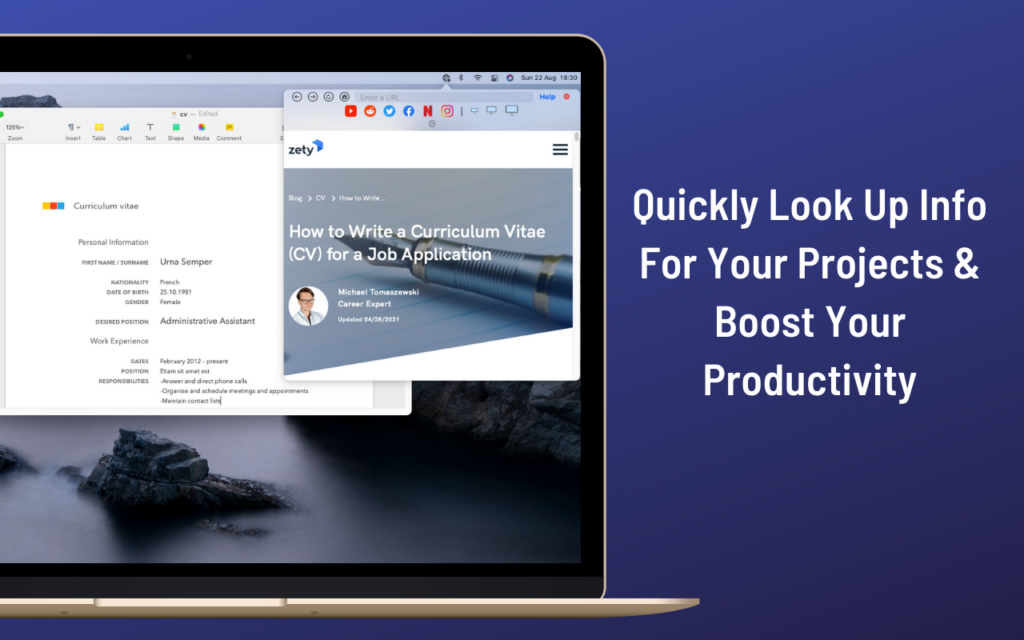 No more jumping in between apps that slows down your work.
ZuriWeb is also great for following tutorials.
(Fun Fact: It's the reason why the app exists in the first place. )
I wanted to find a faster way to follow along coding tutorials on Youtube. I would always lose track of where I was which made learning frustrating and annoying.
This makes it so much easier by being exactly where you were in the app.
With a keyboard shortcut, you can just hide the browser instantly,
and show it back again, continuing the video with the space button and your cursor is in the exact same position.
Use it to track important data
ZuriWeb can be used to track any kind of live data online such as cryptocurrencies, weather data, stock items of products and many more right from your Mac's menu bar.
You no longer have to download a bunch of apps that clog up your menubar , you can find the data you want all in one place.
I'm always adding new features to the app based on feedback from users. Feel free to contact me here and let me know what else I can add to ZuriWeb to make your experience with it even better.
You can do so much more aside than watching Netflix on Mac desktop
Thank you so much for the support!