Youtube is one of the most popular sites in the world. It's shocking to why there's no official Youtube app for mac that's available on the app store.
Other big sites such as Instagram, Facebook, Netflix are also guilty of not having official mac apps to download.
Even though Youtube hasn't made an app for mac, here's another way that you can watch Youtube on your mac's desktop.
ZuriWeb Menu Bar Web Browser
Zuriweb is a mini menu bar browser that you can visit any website from your menu bar.
It lets you have a mini Youtube player that floats over the current app window that you're on.
You can watch Youtube videos while you continue working on anything you want on your mac.
For example, you can browse a website on your main browser while watching a youtube video with ZuriWeb.
Head on over to the apple mac store by clicking this link and download ZuriWeb.
What You Can Do: Advantages.
Or you can be learning how to use photoshop and you can follow along a tutorial with zuriweb as the youtube video plays on the menubar.
You can quickly hide or show the player with a keyboard shortcut of your choice.
This way you don't have to keep pausing youtube when you're going back and fourth between apps.
This frees up a lot of time and makes working that much easier and you end up being up more productive and make more progress.
You can choose multiple sizes for your viewing needs. Or you can set your own custom size by dragging the window to the size you want.
The preset size mini is perfect for watching Videos while you're working or surfing the internet.
More Advanced than Picture In Picture
There's a picture in picture feature that some browsers such as safari or chrome have that you can watch Youtube. But it has it's limits.
Once you watch a video in picture-in-picture mode, you can't quickly select another video once you've finished watching it.
The related videos section isn't available and you'll have to close the picture and picture window and go back to the main browser to play another video , like or comment on the video.
You also won't be able to chat if you're watching a live stream video.
With ZuriWeb you can do everything that you can on a normal browser right from your menu bar.
No matter the size you set, you'll have full access to all the features for Youtube such as viewing and clicking on related videos. Commenting, sharing, liking etc. which you can't do on a picture in picture browser.
Browse Podcasts and music easily
Turn your menu bar into a dedicated podcast and music player.
If you're listening to music or a podcast the audio continues to play in the background even if the menu bar window is hidden.
No more needing to open up other tabs or windows to listen to podcasts/music.
It's faster and easier to navigate instead of going back and searching up on YouTube or opening another app such as spotify and switching between windows to browse songs and working.
Doing this everytime which can be distracting especially when you're completely focused on working on a project.
Skipping to the next song or playlist is instant when you simply use the keyboard shortcut to show and hide the menu bar browser.
Other Uses for ZuriWeb
ZuriWeb makes a great youtube app for mac but there's an unlimited number things you can do with it.
You can turn your menubar into a productivity powerhouse.
You can make any other streaming site into a picture in picture window that you can watch as you work on other things on your mac.
Streaming sites such as Netflix don't have a native macOS application or picture in picture browser options on their site.
You can use ZuriWeb to play a mini version of Netflix or any other streaming site that will sit on the corner of your menu bar.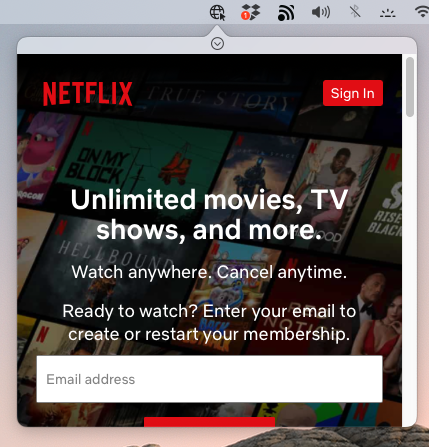 You can watch movies and tv shows while you work. This makes working more enjoyable and you'll be able to make better progress to what ever project that you're on.
Turn it into Research Tool
You can use ZuriWeb as a cheat sheet. It can get annoying switching between apps while you're carrying out research for a project that you're working on.
Thanks to keyboard shortcuts you can quickly switch back and forth between, for example Safari and Microsoft Word with the press of a shortcut button.
Allowing you to copy and paste notes or research between sites with ease and you can't lose track of what you were doing before.
Make native apps for missing apps
As mentioned earlier, there's still many big companies that aren't yet on the mac app store. Instead of waiting for official versions. This can be the perfect replacement for now.
You can turn it into your dedicated reddit or instagram 'app' for your mac.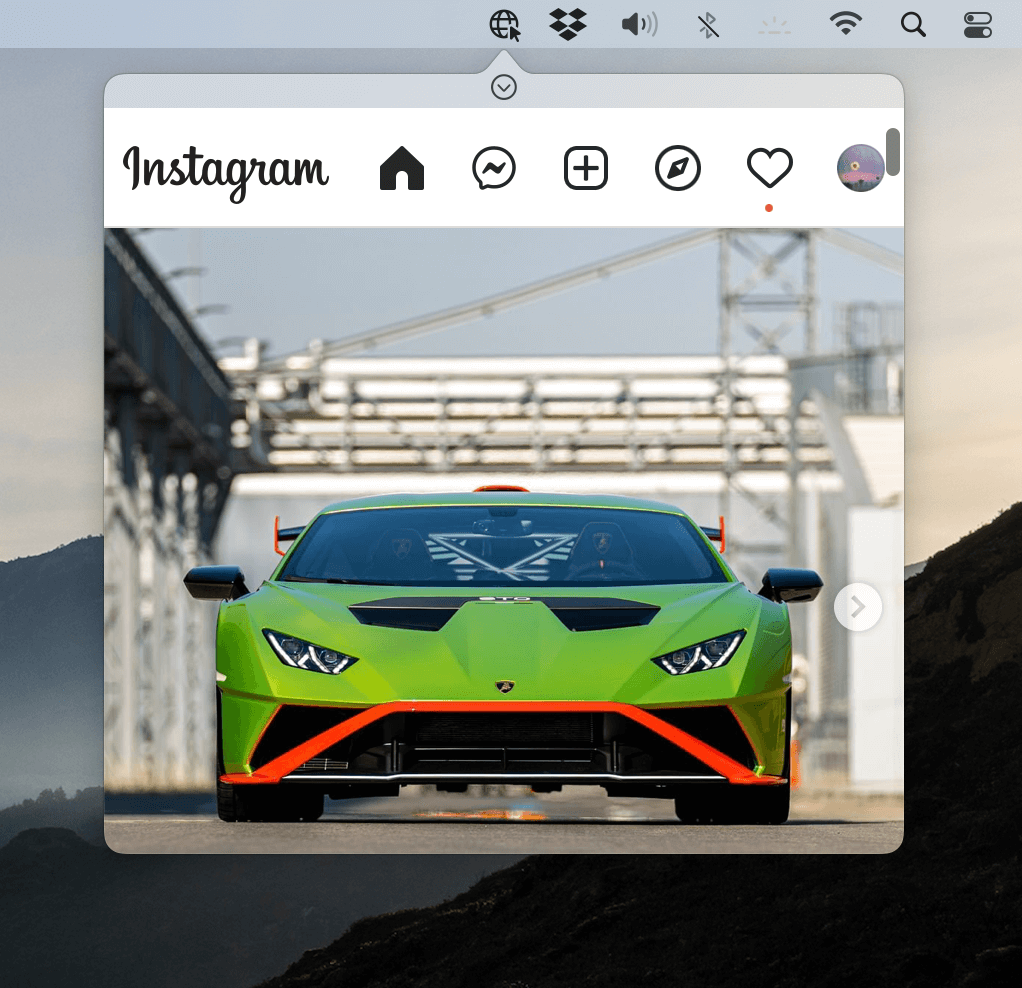 It can get easily distracting if you browse social media in a new tab. And you get side tracked and lose your momentum of working.
When you can check in an instant with a hotkey shortcut, you won't be able to lose momentum and keep up the pace on what ever that you're working on.
Keep track of Live data
Use it to check up on up to date news or track cryptocurrency, convert currency and much more.
Instead of opening a new tab to check up on breaking news or pricing.
You can instead use ZuriWeb as a dedicated currency/news/cryptocurrency tracker for your mac.
You won't have to download other similar menubar apps and pay for extra features when you'll be able to do everything once you use zuriweb.
You can access any tracking website of your choice without having to clog up your menu bar with other apps for the same purpose.
Save multiple sites of your choice in the bookmarks tool and jump between sites in a second.
ZuriWeb is not only a good youtube app for mac, but you can also do a whole lot of other things on your menu bar that will take your productivity to a whole other level.
It's a one time purchase of only $4.99 (even cheaper depending on your region) and has no subscriptions or in app purchases.
You Can Download ZuriWeb right now from The macOS app store. Click the link below.