The new year is here, here are the best Mac menubar apps that you should have for your MacBook in 2022.
The menubar is still an overlooked part for many Mac users.
With the right apps, the menubar can make your Mac experience much better and boost your productivity.
Most of these menubar apps should come pre-installed within every Mac OS. they boost your productivity and provide easy access to utilities in your Mac computer.
Let's start off the List
ZuriWeb: Menubar Web Browser
We may be slightly biased here 😉 but Zuriweb is a must have menubar app that can make your life 10x easier when you're using your Mac.
As the name suggests, it's a mini-web browser right on your menubar.
The biggest benefit of having a web browser in your menu bar is you don't have to switch between app windows constantly while you 're working and browsing the internet.
With the press of a keyboard shortcut, you'll be able to hide or view the browser in an instant.
You can use it for 100's of different ways and take your productivity to the next level.
You can watch Youtube videos while you're typing on a word document at the same time.
Binge on Netflix shows while you work on your project simultaneously.
Easily copy and paste information between sites and on to documents without switching apps.
ZuriWeb makes working fun and you end up making more progress .
Click here to ZuriWeb Download from the App Store
Paste – Mac MenuBar Clipboard Manager
Paste is a useful menu bar app if you're always copying and pasting info/links or any other type of text on a frequent basis for work or casual browsing.
What makes Paste unique is that it remembers what you copied and pasted in the past.
A menu appears at the bottom of the screen that shows all the most recent text you've copied.
You can create "Pinboards" and organise each of your links in each separate board just like pinterest.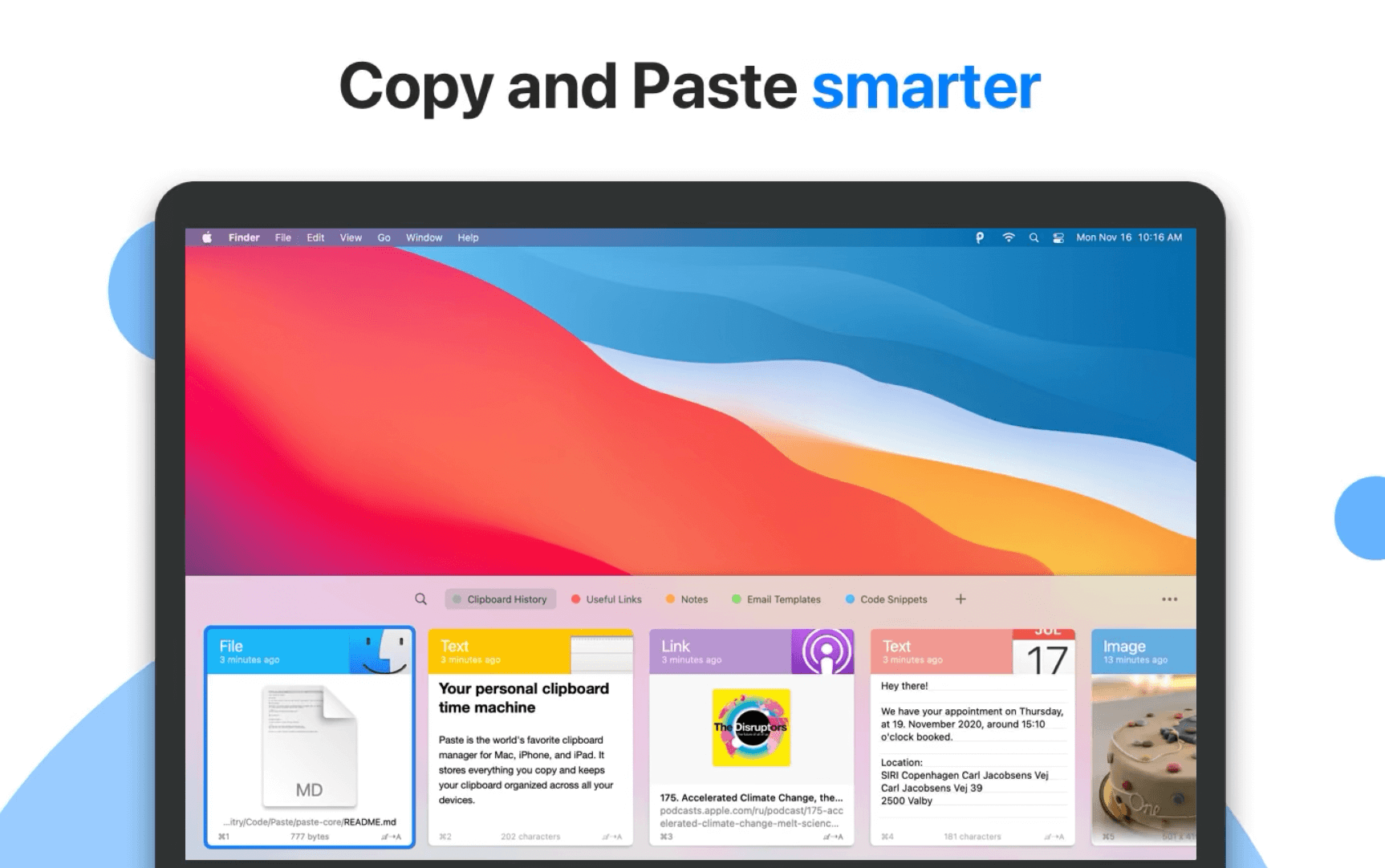 This saves a lot of time if you're always copying the same kind of text over and over again.
You can sync between devices so that you have access to those same links you copied on your Mac to your iPhone.
It's a much faster and easier way to copy info between your phone and Mac than iCloud syncing everything with the Notes app.
Paste is free to download but requires a yearly subscription of $14.99 a year or $1.99 a month in order to start using it.
Click here to download Paste from the App Store
Noizio – Nature Sounds
Noizio is one of the most unique menubar apps for mac.
It plays ambient music that helps you to relax or help you with productivity.
You can choose a variety of ambient sounds that play non stop. From Rainy sounds, a fire burning in a camp and more.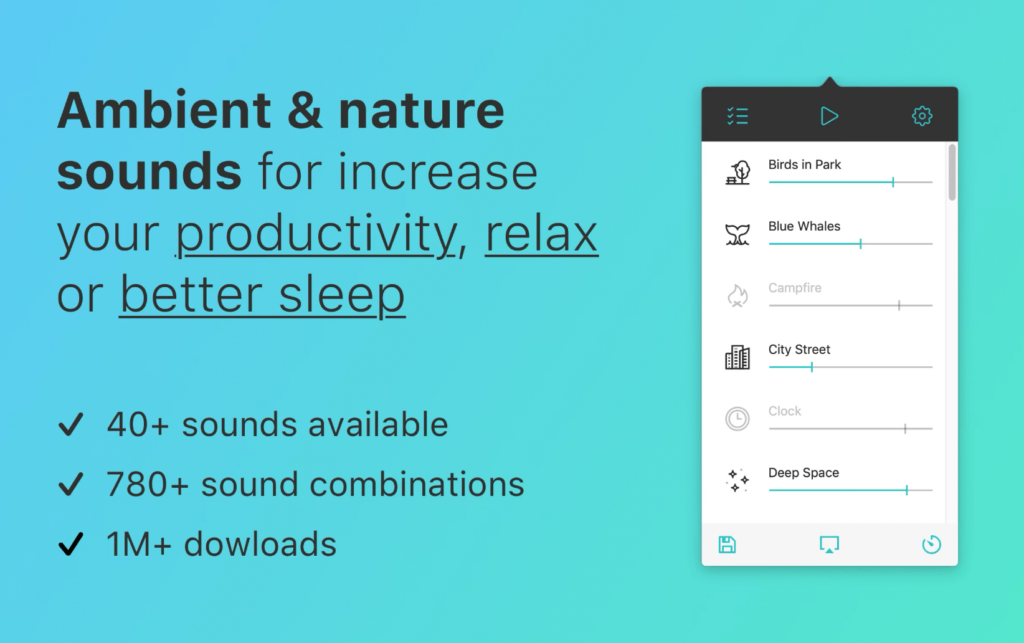 The coolest thing about Noizio is you can play multiple ambient sounds at the same time. You can combine birds chirping to the soothing sounds of rain.
Or the sounds of a busy city filled with traffic and people walking with the sound of a heavy thunderstorm.
If you combine a mix of sounds that you really like, you can save the combo and replay it any time you want.
My favorite feature is that you can set a custom alarm for sounds to automatically play.
Noizio comes in either a free version that you can try out first before you decide to buy the paid version.
The Free version contains only five sounds to choose from:
Campfire
October Rain
Sea Waves
Sunny Rain
ThunderStorm
While the paid version has over 40+ sounds available for you to choose. The full version costs $11.99 if you wish to purchase it.
But If you're happy with the lite version you're not missing out on any other feature being locked.
Download Noizio from the App Store:
1. Free Version
Escape 2
If you're trying to reduce your social media usage.
Or want to stop wasting time on sites when you should be working.
then you should know the amount of hours you spend on such websites.
This is exactly what Escape does straight from your menubar.
It's easy to set a goal to be more productive but without knowing where your hours are going, it's easy to drift off and lose track of time by browsing sites such as Youtube,Facebook,Twitter etc when you should be working.
What's great about is Escape is once you've installed the app it has instant access to the sites you browse.
(after you've given permissions of course).
You don't have to install anything else afterwards such as an extension to your browser for everything to sync together.
It can already start tracking how much time you spend on a site.
The logo of the site you're on shows in the menu bar
And a timer right next to it which is very useful.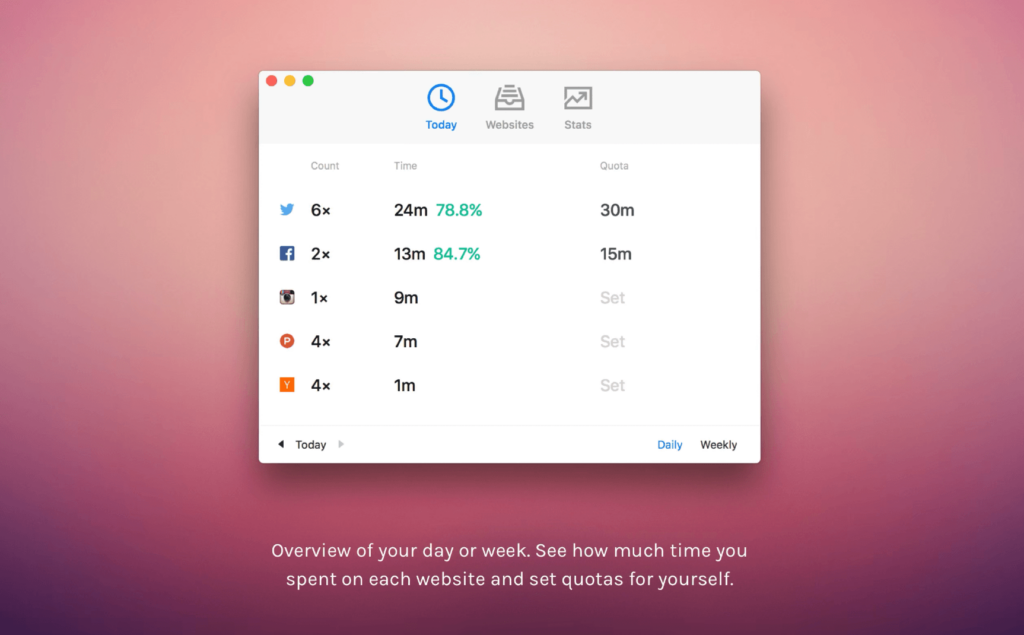 It also shows how many times you visit a site. Which you can also make the number appear by default on the menu bar.
The one thing I don't like is when you click on a different tab or even app and go back to the site you were on, it will count that as a visit.
There's a graph you can view which sites you spend the most time on over the course of a week.
It's easy to not want to know how many hours you spent browsing YouTube but Being aware of how much time you spend on sites that you usually visit will greatly boost your productivity.
Escape doesn't have any paid options and is completely free to use.
Download Escape From The App Store
There
There is a timezone app that lists different times for any city around the world from your menubar.
But unlike other timezone apps, this has a social aspect to it.
If you have friends and family around the world you can add them as contacts and it'll show their current timezone right next to their name.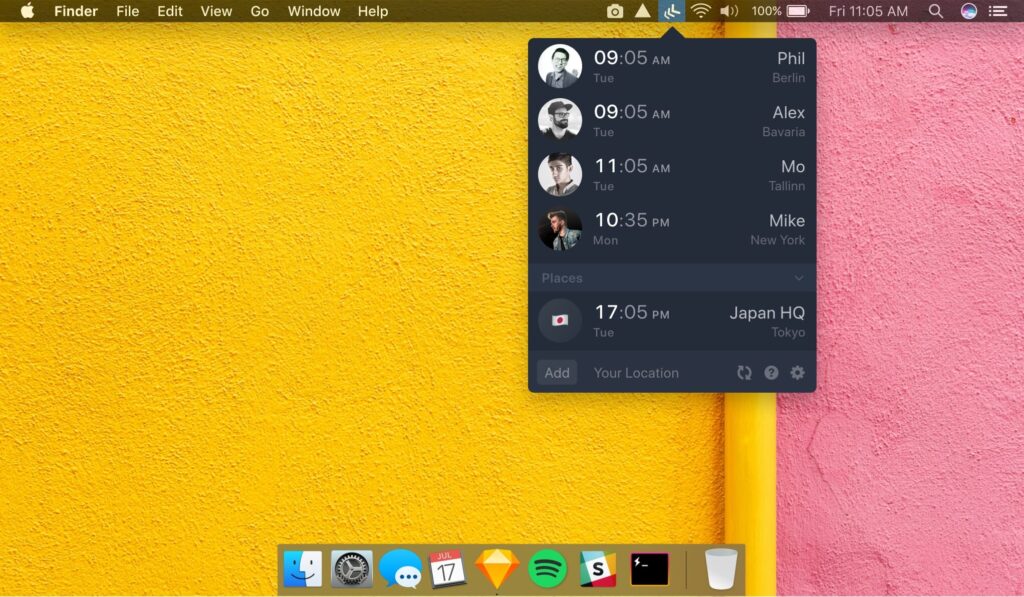 Or if you work remotely and regularly contact co-workers/employees that work from around the world you can also know when to contact them according to their timezone.
I've lost count to how many times I ended up calling someone in a completely different country that i assumed we were in the same timezone.
If you're not interested in the social aspect, you could just add individual cities or countries .
This makes it easier to know the timezone just by clicking on the menubar.
My only gripe with the app is I wish there was a hot key that I can use to instantly show the timezones while I'm working.
The app is completely free and no features are locked behind a paid version. You can support the developers through their patreon page.
Download There from their official website
SpotMenu
SpotMenu is a menubar app that you can control Spotify from without having to keep opening the spotify app to switch to the next song. It shows the name of the artist and song that's currently playing on the menubar itself.
Clicking on the SpotMenu app will display the album artwork of the song playing. SpotMenu is a free app.
The downside of SpotMenu is you don't have full control of Spotify. You can only skip back and fourth to the current playlist running from the main app.
If you want to have full control of what you want to play, browse playlists and search for music from your menubar. You can use ZuriWeb for this.
You can't find it on the app store but you can get it from this link instead.
*Update* Make sure to not update to the latest version if you're running macOS Monterery 12.0.1, the name of the song playing will show on the menu bar,but the app itself wont drop down if you click on it.
Timemator
Timemator is a time managing app that you can use to track how much time you spend on working on a particular task on your mac that you can assign to manually.
It has a timer that shows on your menu bar which you can pause whenever you take a break.
You can sync and use Timemator across all devices in the apple eco-system that also includes the Apple watch.
You can set a custom color for each task, based on the type or importance of a project that you're working on.
This makes it easier to track when you look at the timeline that shows a summary of what you've been working on in a period of a week.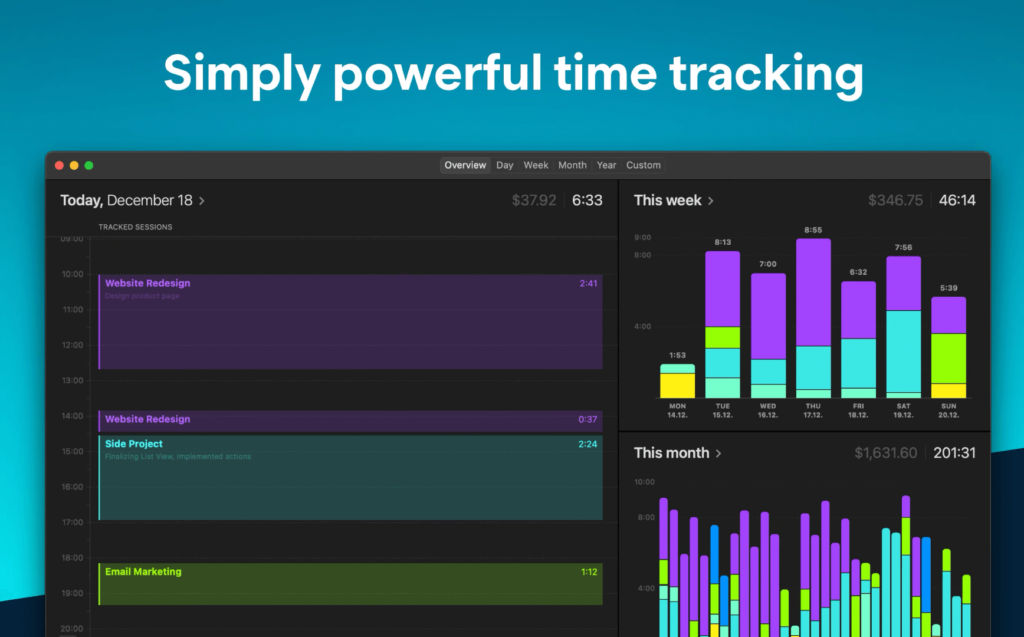 It's very simple to use , you just click on the menu bar icon and you can add a task in less than 3 clicks.
This app is perfect if you're a freelancer or work one one with clients, it automatically can track the time you start working on a client's project.
And in the task settings you can set an hourly rate for the project that you're working on.
It supports a long list of apps for multiple categories. Wether you're a developer, designer, writer etc. it would able to track an app such as Photoshop and make it easy to check how much time you've spent, and be able to charge your rate depending on the hours you've worked.
Timemator comes in a trial version that lasts for 30 days. Then you'll have to pay $10.99 for the full version and there's no monthly subscription fee.
Download Timemator From The App Store
Make sure to check back on this article as there'll be more menubar mac apps that will be added.